Hello Paul, Just wanted to write and say we couldn't be happier! The wall looks great. Thank you
Amy
Thanks Paul. We love our new wall and door. My son is really happy to have his own room now.The wall looks great and the color matches the other walls perfectly. The door and trim look fantastic.The whole job came out so nice. Thanks to you and your team for doing such a great job!
Suzi
Paul, thank you for the excellent work you and your crew did in my home. The wall and the door look like they have been there forever!! I've given your info to many of my friends and colleagues. I'll be calling you soon with another project. Thanks so much.
Jenny Wise, Simi Valley
I wanted to thank you for the amazing job yesterday, the kids love their new rooms. I will send you pictures when they have decorated Thanks again
Jackie M
When I first thought of adding an temporary wall to our home, I was skeptical whether the renovator would understand my requirement. Not only did they grasp my thinking, their timely advice and suggestions transformed my thoughts into a new bedroom in our home.
Lina, Santa Monica
Exceptional Experience Paul took what could have been a bad experience and made it an exceptional experience.
Many vendors and service providers claim "satisfaction guaranteed" but few follow through on it. I expressed my unhappiness with the original work to Paul and he immediately came to my home to inspect it himself. Rather than try and convince me that what I was noticing was nothing, Paul agreed with me and asked me when I was available for the work to be corrected. His team came back and made it perfect.
Having the peace of mind that Paul is going to do it right the first time or make it right afterwards is worth everything when retaining a contractor. Everyone's fear is having a disaster and then chasing down the contractor to refund or fix the job and then ultimately having to bring in and pay a new contractor to finish or correct the work. With Paul, this fear does not exist.
I strongly endorse L. A. Wall Company for high quality work with your satisfaction guaranteed.
Jeffrey E
The team at LA Wall are excellent craftsmen, and have great creative ideas, they listen to their clients' needs and desires, and actually get the job done in a timely manner. The materials are top quality as is their superb service. If I ever need anything else done, I know who I'll be calling.
Tresa Redburn, Woodland Hills
LA WALLS is the best
I have to hand it to Paul and his team, they really were the best people to work with, while building our new business. We had an open floor space, that needed to be transformed into two rooms. Paul came to the location several times and walked us through all of our options, and took his time in explaining all the details. His team was on time and finished without a hitch. The end product turned out perfectly. From start to finish, LA Walls was top notch. I can't recommend them more!
Patrick Cavanaugh
Looks Amazing!
The wall looks great! You can't even tell it's a temporary wall! And Paul was great. He came out to give me an estimate and he also offered to match the paint on the temporary wall to our existing walls. The paint he chose matches perfectly. We couldn't be more pleased!
Robert I., Irvine
Wall + Loft Platform = Amazing!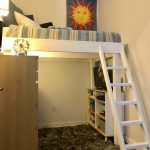 LA Wall split our kids room for us, with a nice wall (and locking door) right down the middle. Because they did such an awesome job, I hired one of them (Jared) to build a loft platform for one side of the room.
It all looks outstanding!
Amber Rose Petrovich